We've come a long way since the old days where we had to cut through magazines after magazines to find inspiration for our remodeling project. Fortunately nowadays, it is as easy as typing and clicking on a button to find the right concepts and the fitting furniture for our dream house.
Travelers who frequently use Airbnb for their accommodation arrangement, are now looking into it for great inspiration on how they would like to spruce up their homes. Not being one to miss out from such captivating experience, we did our own research and listed down Malaysian homes on Airbnb that managed to excite our minds and capture our hearts.
Aptly named New York City, the apartment reflects the typical contemporary studio you can find in The Big Apple. Specifically designed by the interior designers of Sarjana Hartanah, it exudes a metropolitan identity that balances comfort and modernity. The dim warm lighting in the living area accentuates the cozy feeling that welcomes you home after a hectic day at work.
This 1,900 square feet Penthouse Apartment offers a spacious living room tastefully decorated with a harmonious blend of antique and chic. The living room, which opens up to the balcony, receives ample natural light thereby amplifying the volume of the already expansive unit. Taking advantage of it's beautiful surroundings, the fully functioning kitchen comes with a window that opens into the living room and a view of the sea while you cook.
Nestled in the Ipoh's Sarang Paloh Heritage Stay and event Hall is a room named the Gold Swiftlet room. This premise was the first Chinese bank in Ipoh and now re-adapted into a boutique hotel. In preserving the authenticity of the building, the refurbishment efforts only used reclaimed timber floorboards salvaged from other buildings and reclaimed Marseille tiles that were traditionally used for buildings built in the era of 1920's to 1940's.
Apartment 1232 in Silverpark, Fraser's Hill, boasts an open terrace with a floating daybed that enjoys a view of lush natural greens surrounding it. The bar stool dining which seats eight to ten people merges contemporary design with the traditional function of hosting big groups in your abode.  Despite it's small size, the lack of obstructions to the world outside gives home owners the feeling of limitless space.
As we've seen earlier, old houses do have their own charm. This Shophouse studio is no exception as it is a century-old town house in Georgetown renovated into an apartment-style accommodation. A ground floor of a three-story house, the glass panels let in a generous amount of natural light to create a modern and spacious feel to the otherwise traditional and tiny area.
Owners of Eco B & B, believe that life is about striking a balance between enjoying little luxuries and being eco-minded at the same time. Taking a leaf out of their book, if you want to consider going through the eco-friendly route, you can start by ensuring your furniture is handmade, using locally-sourced wooden pallets and other natural materials like banana fibre and recycled wood from a local stable. Also, consider using white in various textural forms to create layers of visual interest without overwhelming the space.
Lorong One Homestay, located in a quiet neighbourhood of Ujong Pasir, Melaka, is a 1,387 square feet modern industrial-inspired homestay designed by Domusworks. The red brick walls matched with cement rendered walls and flooring, turns the redesigned single story terrace into a natural yet welcoming space. The indoor garden with roof skylights complements the high ceiling giving the structure an airy and larger feel.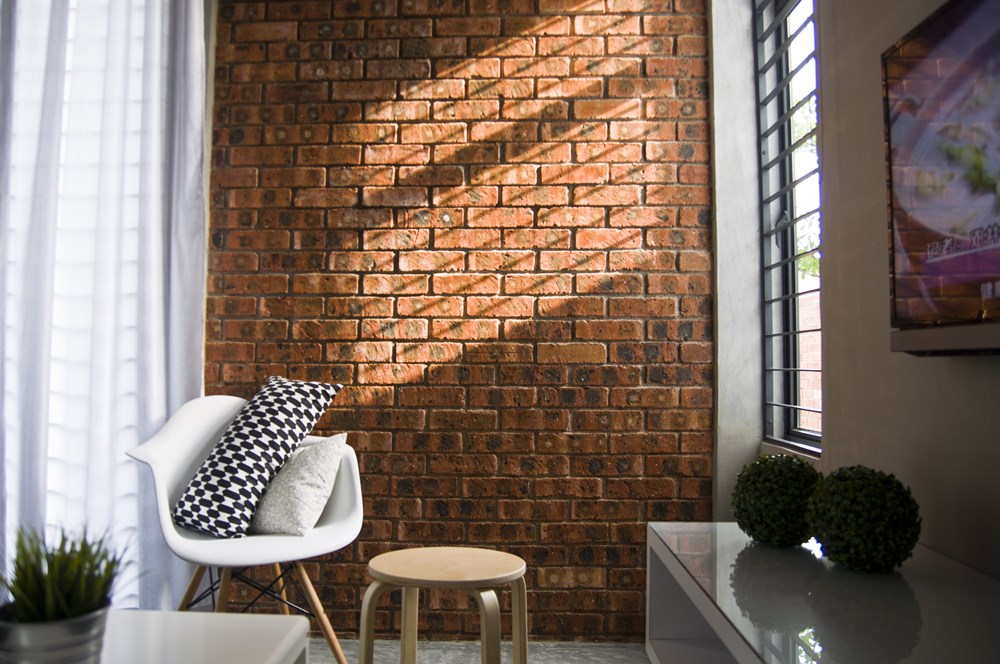 This studio apartment, which sits in the central district of Kuala Lumpur, is an interpretation of Japanese minimalism interior. It has simple aesthetics with multi-functional spaces within its cozy and tiny area. A great choice for bachelors or young couples who aspire for the clutter-free life.
From the looks of this luxurious apartment in the heart of KL, it's good idea to personalise your living space with art that you have collected from your travels. It adds a degree of sophistication and personality to your dwelling. In addition, the floor to ceiling windows in the bedroom offers a great city view that'll fuel your wanderlust and keep you dreaming of your future adventures.
The blue-themed Cozy Condo in 'The Land Below the Wind' gives any visitors the sense of calm and tranquility. This syncs harmoniously with the wooden pallet furniture turning the home into a comfortable relaxing space that anyone would be hard to part with. The hidden lighting in the living room also creates a majestic effect brightening up the interiors without being too intrusive.